We are excited to announce that Kathryn Monks, Lancashire astrologist will be featuring in her own monthly series of horoscopes on Lancashire Online.
The artist
Kathryn Monks is a Lancashire based astrologist, artist and designer. She designs and creates her own range of bespoke products from her workshop. She is a specialist in designing unique and beautiful wedding clocks. Visit Kathryn's business page here
Kathryn was formerly a psychiatric nurse for 15 years, working in many areas from the elderly to forensic settings.
In a major change of direction, she studied for a degree in fine art at Blackburn College whilst juggling the demands of being a single Mum.  She then invested in technology, including laser machines, and built up her art based business.
Kathryn's artwork directly reflects her interests and she creates pieces on themed subjects such as earth studies, astrology, mythology, and mindfulness. Adding horoscope writing to her diverse and eclectic skills, she studies the universe, and the wonderful timing of the cosmos, so she, and we, can live our best life.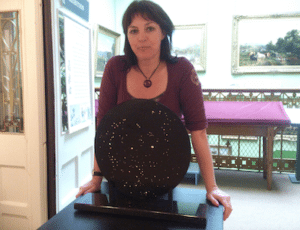 The premise of Astrology
Since childhood Kathryn has been privileged to have had many strange and wonderful experiences of the ghostly and mystical kind, which led her to explore the nature of reality, synchronicity, sacred places, to make sense of the world.  Through psychiatric nursing, she learned the value of the subconscious mind, and subsequently mindfulness, which is a key to the deescalation of stress.
She often goes walking in the countryside, in places undisturbed by other people, to connect with the subtle and gentle energies that can be felt. The nature and mechanics of time is intrinsically interesting to her, in so far as the cycles and patterns of time can be studied. This is the premise of astrology. To pull all these divergent strands together underpins the art and design products that is Kathryn Monks.
Look out for Kathryn's new feature….
Footnote
I have been a psychiatric nurse RMN,  I trained at North Manchester General Hospital,
I have a City and Guilds in bench joinery.
A BA (hons) degree in fine art.
And have been a member of the Bolton Astrological Society for seven years, and exhibit at a national level, (most years) at the Astrological Society in Cambridge.